Space sector
Created in 1975, SOTEREM's historical activity was the manufacture of experimental devices dedicated to material science for nuclear reactors.
The company's activity thus naturally turned to another industrial sector where its high-tech know-how could be highlighted: space.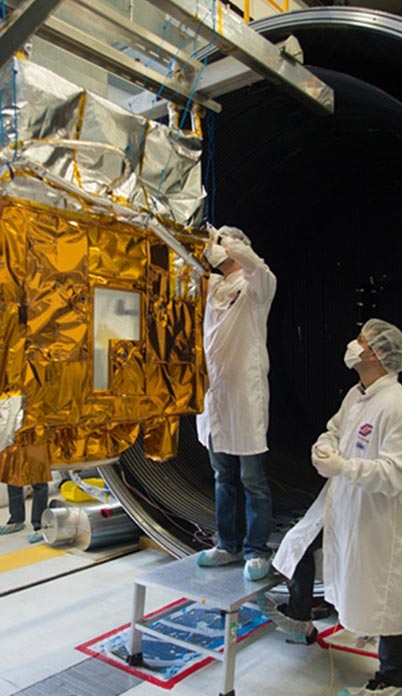 Our Expertise
From on-board equipment to experimental devices for microgravity science, SOTEREM skills in space are applied to many fields:
Mechanical engineering and material science

– High precision mechanisms
– High temperature devices
– Non-conventional welding and brazing
– On-board electro-mechanical actuators

Vacuum, pressure and thermal engineering

– Thermal analysis
– High temperature tests
– Qualified equipment for high pressure and advanced vacuum.

Assembly, Integration and testing

– AIT Microsatellites
– AIT  Pay-load and equipment
– Electric motor and actuator
– Build to print
ON-BOARD EQUIPMENT
Experimentation devices for material science in microgravity (furnaces and cartridges).
Manned flights: air conditioning equipment (fan and water separator) of the Columbus module in operation since 2008.
Microsatellite integration : myriad series
Electric motors for satellites
On-board electromechanisms on satellites.
GROUND EQUIPMENT
Antenna positionning system for ground station.
Solar panel deployment mechanism test bench.
Mechanical ground  support equipment for simulation and tests.