Aeronautics and Defence sector
SOTEREM is a trusted supplier for the major players in the aeronautics and defence industry. At SOTEREM, we design, develop and manufacture embedded electro-mechanisms according to two industrial schemes.
1. Development upon customer specification :
Including feasibility studies, maturation, design, qualification and industrialization of embedded electro mechanisms.
Our experts master the design of motors, electromagnets and gearboxes.
2. Manufacturing service based on customer definition file (Built To Print) :
Des clients majeurs du domaine Aéronautique et de la Défense nous confient la fabrication de leurs produits..
Major customers in the Aeronautics and Defence sector entrust us with the manufacture of their products. Thanks to our EN9100 certified organization, SOTEREM provides the global service of industrialization, manufacturing and maintenance of the product, whatever the complexity or quantities involved.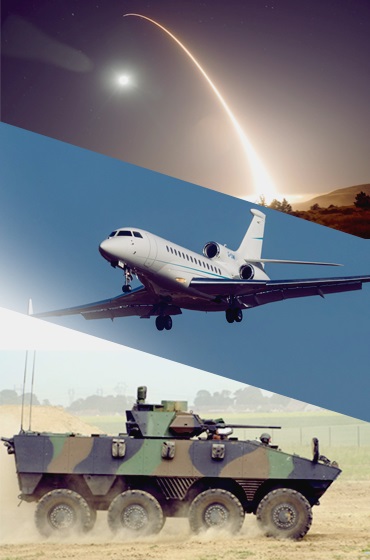 Nos prestations
Nos prestations couvrent tout le cycle de vie du produit
Supply and purchase of machined parts and industrial components;

Special procedures, obsolescence follow-up;

Material traceability;

Input control;

Assembly;

Integration and testing;
Delivery under certificate of conformity. Repair and maintenance in operational condition of mechanical sub-assemblies, mechanisms and electro mechanisms.
Our Expertise
SOTEREM is supported by a panel of qualified subcontractors, perfectly qualified to meet the requirements of the aeronautics and defence sector. SOTEREM is also able to implement a wide variety of special processes.
Products highlights
– Mechanical assembly – shock absorber, torque limiter and clutch.
– Electromagnet and firing trigger.
– Drive motor and alternator (DC, BLDC, ASY, Stepper).
– Linear actuator and rotary actuator.
– Locking/unlocking actuator.
– Door opening actuator / servo actuators including servo electronics.
– High-speed piston air compressors